STARSkate & Competitive Skate
STARSkate
Skills, Tests, Achievement, Recognition – this is what STARSkate is all about! STARSkate offers opportunities for skaters of all ages to develop fundamental figure skating skills in the areas of ice dance, skating skills, free skate and interpretive skating. Unique in Canada, this program teaches figure skating skills in a group and/or private lesson format in a progressive and sequential manner. Skaters have the opportunity to take Skate Canada Tests through a nationally standardized testing system. Skaters who have mastered figure skating skills in STARSkate may also choose to pursue synchronized skating or pairs skating.
STAR 1-5 program introduces participants to the basic figure skating elements to create the foundation for singles,pairs, ice dance and synchronized skating. The program covers the content outlined under the Long Term Development Learn to Train stage.
The content in STAR 6-GOLD covers the Learn to Complete stage of development in the Long Term Development in Sport (LTD). This stage of development will be accessed by skaters who may choose to continue in higher levels of the STARSkate program (STAR 6-10, Gold) or purse the pathway for higher performance development (Competitive Skate).

HSC STAR Skaters STAR 2 - Gold Skaters will be given group lessons in edges, turns, power, stroking, field moves, spins, jumps, footwork, dances, synchro and showcase and much more! Along with the group lesson skaters will be given a semi private lesson and practice ice. Lessons will be offered Sunday 10-12noon.
Group lessons allow for group and individual feedback, group teaching and fun! Skaters are encouraged by being with their peers, motivated by performing for others or by seeing others performing skills beyond their current ability, and by having constant observation and instruction from coaches. It is economical for parents and beneficial for skaters.
STARSkaters are encouraged to participate in our once-a-month theme days, Ice Show and STARSkate sanctioned competitions and seminars hosted by the club or other Skate MB clubs.
Off-Ice training is used to enhance on ice skills and prevent injury. Off-Ice training enhance an athlete's strength, power, endurance, flexibility, mobility and overall performance. Skaters need to be well conditioned to withstand the element repetition again reducing injury. Off-ice warm will be offered Sunday before the ice session starts.
Skaters advance at their own pace based on their individual skills achieved and lesson ice time.
---
STARSkate Competitions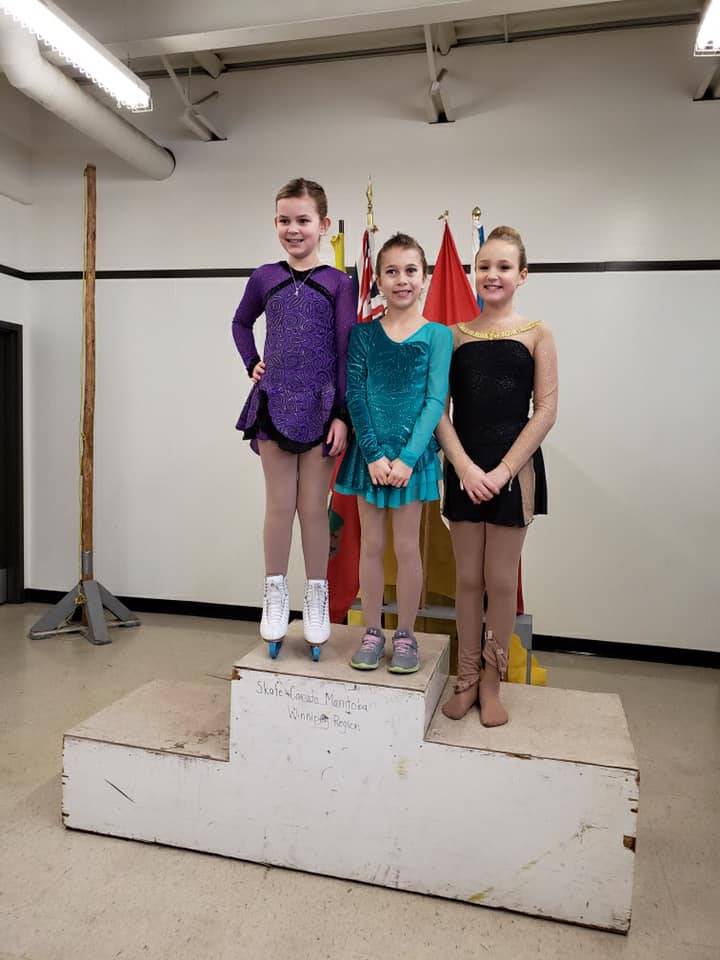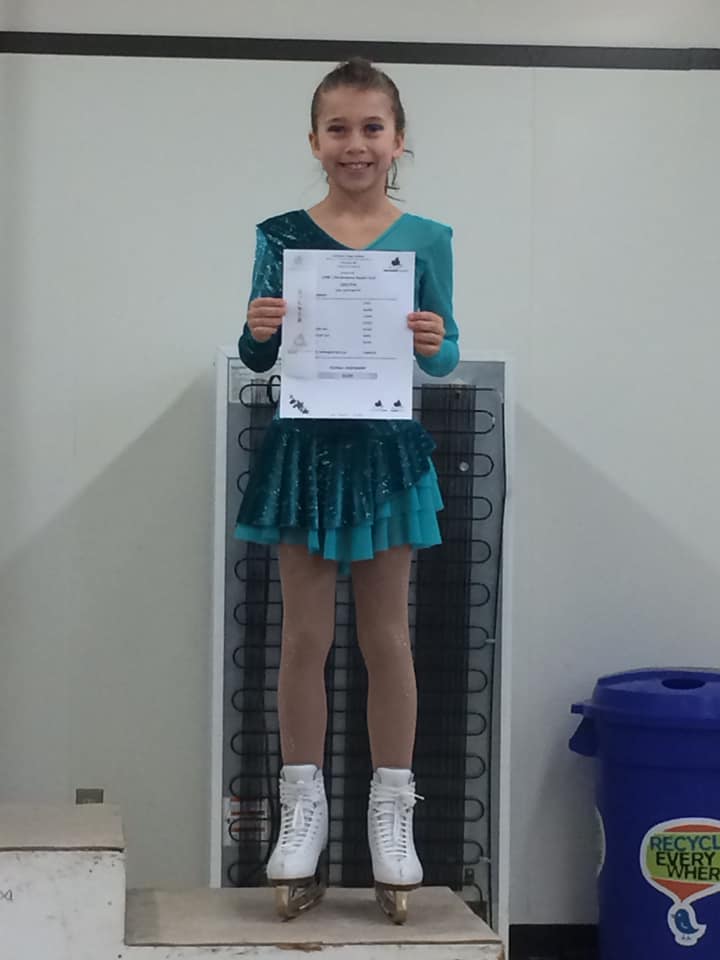 STARSkate Competitions
The STAR competition program is comprised of five different levels of events for skaters who have completed the CanSkate program. STAR 1-5 fits into the Learn to Train level of Long-Term Development (LTD).
​Each stage of this national program emphasizes key skills such as turns, stroking, jumps, spins, and different aspects of performance that have been designated by figure skating experts as necessary for development and progression in our sport. It is important to note that every skater is unique and will advance at different rates due to various factors such as growth spurts and participation. To accommodate individual needs, the STAR 1-5 competition program is designed to be fluid and allow skaters to progress at their own pace, even skipping levels if appropriate; skaters may move through several levels in a season or stay at the same level – it's all dependent on individual athlete development! At all stages and levels, parents should discuss their skater's progress with their coach to determine the best options for them. The chart below provides a brief description of each level.

At all stages and levels, parents should discuss their skater's progress with their coach to determine the best options for them. The chart below provides a brief description of each level.

| | | |
| --- | --- | --- |
| STAR Level | Competition Format | Description |
| 1 | Group Elements Event* | Introduces skaters to performing elements like jumps and spins in a fun group environment with their coaches. Skaters are evaluated and receive a report card and ribbon based on their performance. |
| 2 | Evaluated Program* | Skaters now take many of the elements they learned in STAR 1 as well as new skills and perform them in a program in front of judges. Many skaters may learn a program in a group and even share music. Like STAR 1, skaters are evaluated and receive a report card and ribbon. |
| 3 | Evaluated Program* | STAR 3 continues to build on the skills learned in STAR 1 and 2. More difficult elements like an axel jump are added and judges evaluate the programs based on more challenging criteria. Skaters also receive a report card and ribbon. |
| 4 | Ranked Program* | Axels are encouraged at this level and receive a bonus for successful completion. STAR 4 serves as a transition point between evaluated levels and competition incorporating a points system. Assessments are used to produce a ranking for each group of competitors. Each skater receives a report card with top finishers in each group receiving either a ribbon or medal. |
| 5 | Ranked Program | Skaters may perform double jumps at this level. STAR 5 is the first-time skaters are rewarded points for elements and performance; it is the same scoring system used to judge top competitive figure skaters. Skaters are ranked based on total points and are provided a detailed report card. Top finishers receive medals. |
* In STAR 1-4, skaters are evaluated against a national standard by a panel of certified judges. Each element they perform receives an assessment of Gold, Silver, Bronze or Merit as well as an overall standing.